Some easy treatment tips:
Stay hydrated by drinking plenty of water and warm fluids
Get enough rest to help your body recover
Use over-the-counter medications to relieve symptoms such as fever, cough, and congestion
Use an immuno booster like BioCeuticals ArmaForce
Gargle with saltwater to soothe a sore throat
Use a humidifier to ease congestion and coughing
Wash your hands frequently to prevent the spread of germs
Avoid close contact with sick people
Eat a healthy diet to support your immune system.
BioCeuticals ArmaForce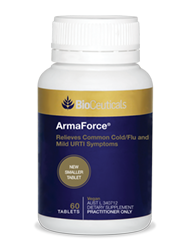 One of Greenleaf Pharmacist favourite products to help combat the symptoms of cold & flu, and help boost your immune system is BioCeuticals ArmaForce.
ArmaForce is a comprehensive vegan formula combining clinically trialled andrographis and immune-supporting nutrients. Andrographis decreases the severity of symptoms of mild upper respiratory tract infections, including sore throat, headache, runny nose, cough, fatigue and restless sleep. Zinc and vitamin C maintain healthy immune system function.
Talk to your Greenleaf Pharmacist today if this product is right for you!