Health Services / Compounding
Tailored medication to suit your specific needs
Greenleaf Pharmacies make compounded medicines to best suit the individual needs of our patients. Our compounded medications are made either on site in the pharmacy, or at our specifically modified compounding lab. All medications are made from scratch to the exact strength and dosage required. This allows our pharmacist to work with you, and your practitioner to best meet your exact medication requirements.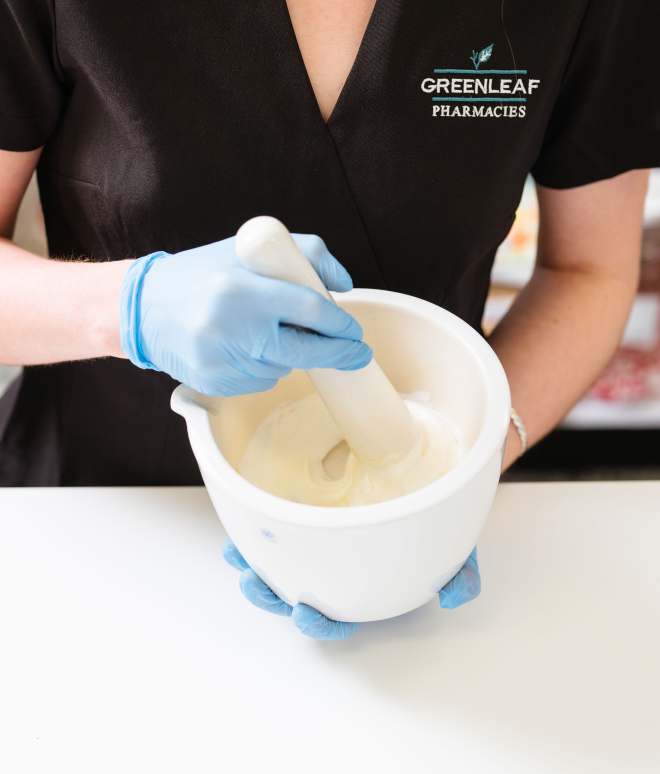 How compounding can help you
Compounding for pain management
Our compounding medication can help support your pain management with solutions such as P.E.A. and other formulations that help chronic pain conditions.
Many children struggle to take certain medications due to factors such as taste or difficulty swallowing pills or tablets. We can recreate regular medicines into yummy tasting dosage forms, without compromising the medication effectiveness.
Our topical or oral products can help make administering your pets medication, stress free for both you and your pet. We work with your vet to help ensure your pet.
Compounding for skin conditions
From personalised acne treatments, specialised wart lotions or creams for unique skin conditions or allergies, we are here to help.
Greenleaf's compounding procedure
Our compounding team will manufacture just about any medication that your doctor requests. Using Fagron & Medisca products that are manufactured in line with the lofty standards of the TGA (Therapeutic Goods Administration) to ensure your compounded product meets the highest standard of quality control.
Most common compound orders can be completed within 24 – 48 hours of your pharmacy receiving your script. However, as not all medication or specific requirements are the same, your pharmacist will be able to provide a more accurate completion estimate in store.
If picking up your compounded medication from the pharmacy is not convenient, we can arrange free delivery to your home or work! See our Delivery Terms for more information.
Almost any medication can be compounded and can be make into products such as:
Creams, gels & ointments
Oral solutions & suspensions
Tablets & capsules
Lollipops & lozenges
Sprays
Suppositories
Balms
Powders
Animal treats
Compounding is a central activity to the practice of pharmacy. Pharmacists are taught in pharmacy school how to properly compound medications. Greenleaf Pharmacies also employee a specific Compounding Pharmacist who oversees all new updates, trainings, and developments in compounding for the group.
A health care provider will prescribe a compounded drug only when commercially available drug products do not meet your needs. If you do not understand why you have been prescribed a special formulation, ask your prescriber.
For certain health services, including flu shots and Naturopath appointments – we accept bookings online.
For certain health services, including flu shots and Naturopath appointments – we accept bookings online.